With school fast approaching (yikes!) for most of us and a few already back, I am feeling the pressure to get more organized and orderly for the upcoming school year. Two years ago, I designed a bulletin board that would help us be more organized with the kids activities and homework, etc.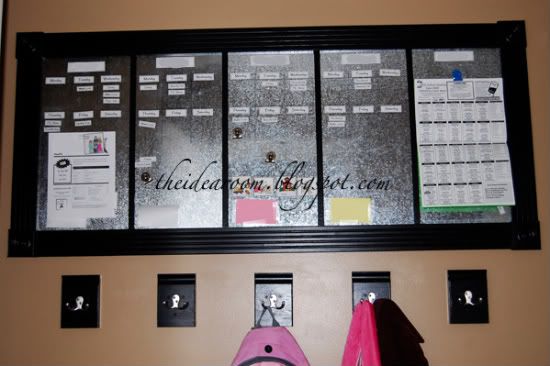 I did not take pictures of each individual step of the process because, I was not documenting every little thing I did back then :)! So I will explain it to you as clearly as possible.
My hubby and I bought some two large peices of sheet metal from Home Depot. We measured out how large we wanted the bulletin board to be and actually drew it out on the wall in pencil. We used a wall we had in our laundry room by the side door of our home. The inside of a garage wall would work well for this too.
We screwed the sheet metal to the wall after cutting it to the appropriate size. However, we did not want the seam to show where the two sheets of metal met. We made sure in our measurements that the seam would fall directly below the third peice of wood separating the section for the third and fourth section. Make sense?
We then took some chair rail and cut four appropriate lengths each with a straight edge. Two for the top and bottom of equal lengths and 2 for the sides of equal lengths. We cut them shorter than the actual length of the bulletin board itself so that we could place some decorative corner peices on the four corners of the board. After nailing everything in place with finishing nails, we puttied the nail holes and used painters caulk to fill all the cracks and crevices where the wood met with the corner peices.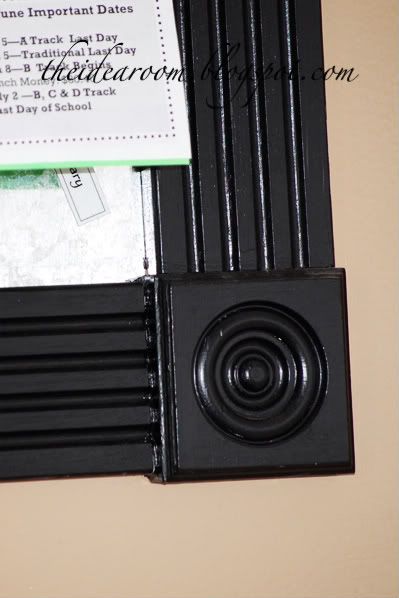 Now that the edges of the bulletin board were finished, we added some 1/2 inch wood strips (Home Depot) to separate the board into sections. We attached them using finishing nails after they were laid out so that each section was equal in size. (Remembering to place one of the strips directly over the seam of the sheet metal). We puttied the nail holes and used caulk to fill the cracks here also.
When it was all dried and the puttied holes sanded, we primed and painted the wood. Use painter's tape to cover any areas that you don't want painted.
Then we added some coat hooks for the kids coats and backpacks to hang from. Each child's is directly below their own section. We simply cut out equal sections of a pre-cut baseboard we found at Home Depot. Each square was sanded and painted, and then we screwed the hooks on. That's all there is too it.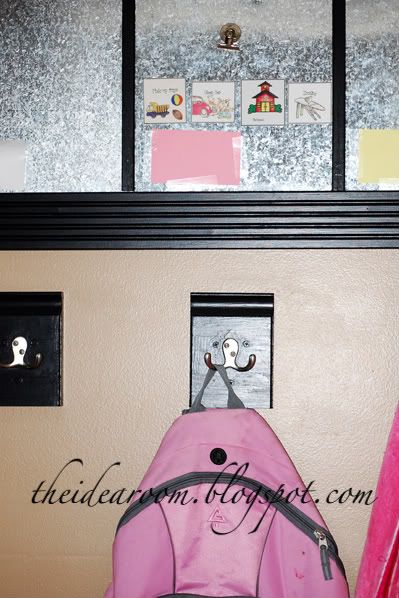 I have loved having this board. I put all the kids individual spelling lists, birthday invitations, flyers, class notes, homework, permission slips, etc. in the proper section. No more confusing who has what when.
I have labeled each section with their names at the top and each have a section where I drew with marker, that comes off with Soft Scrub, for when they have things during the week. I could never remember who had library books due or keyboarding homework or had to have proper PE shoes on any given day. Now with one glance as we are heading out the door (or the night before when they get their back packs ready for the next day) exactly what they will be needing. I typed up the word strips and then laminated them with a magnetic backing so that they stick right to the board.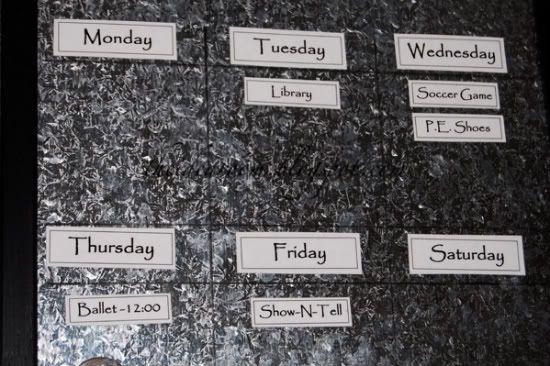 This has made our mornings and the process of getting out the door to school a much smoother process. The kids also know exactly where there stuff is and where to find it. Now that is a miracle in and of itself!
**The bulletin board looks really shiny and weird in these photos. I had to use a flash so my pictures where not blurry since there in not the greatest light in that room. The baby really has no pressing schedules yet, therefore that is where we hang the school lunch menu. Gonna have to figure out where to put that in a few years!

JOIN OUR NEWSLETTER
Would you like more Recipes, DIY, Printables and Organization Ideas?
---
Subscribing to the newsletter will enable us to periodically send you creative content exclusively for Idea Room subscribers.
*View our Privacy Policy here.