Have you ever played with these Marshmallow Guns? They are so much fun! You will want to join in with the kids on this one! And you can eat the ammunition! How awesome is that?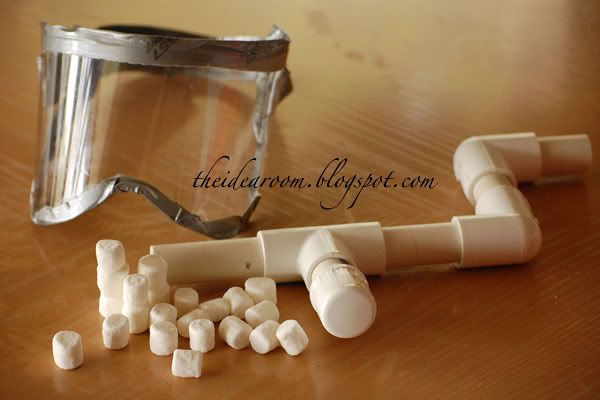 These minature marshmallows guns are so much fun. If your boys are like mine EVERYTHING becomes a gun.
My SIL threw a birthday party for my nephew and they made all the boys their own marshmallow gun. My son loves it!
You place a mini marshmallow into the end of the gun, blow on the other end and shoot the marshmallow at your target. They are amazingly accurate!
It is ALWAYS a good idea to have your kids wear safety goggles when using these guns, because everyone knows that it is only fun until someone gets an eye shot out!
I did a little searching on the internet about making these marshmallow guns and found this great idea for making a pair of safety goggles out of a 2-liter soda pop bottle. I followed these directions but used duct tape to line the sharp edges and make the head strap.
To make the head strap, I simply folded about 20 inches of duct tape in half length-wise and then put another 20 inch peice on the folded peice and folded it in half also. So it was 2 layers thick. Then I just cut it to fit with a little extra on each end of the mask so it can be adjusted for different size heads, after I threaded it through the 2 slits I made on each side of the mask.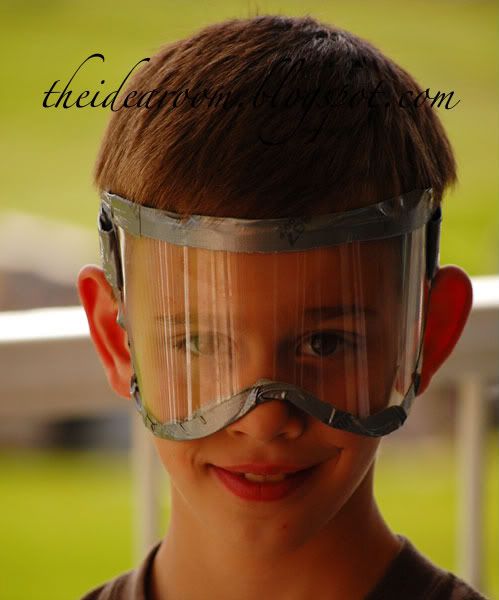 You will need:
a 12 inch length of 1/2 inch PVC pipe (sprinkler pipe)
1-1/2 inch end cap
2-1/2 inch elbows
1-1/2 inch T joint
Take your 12 inch length of pipe and with a hacksaw, cut off three peices of pipe that measure 2 inches each and then cut two peices of pipe that measure 3 inches in length.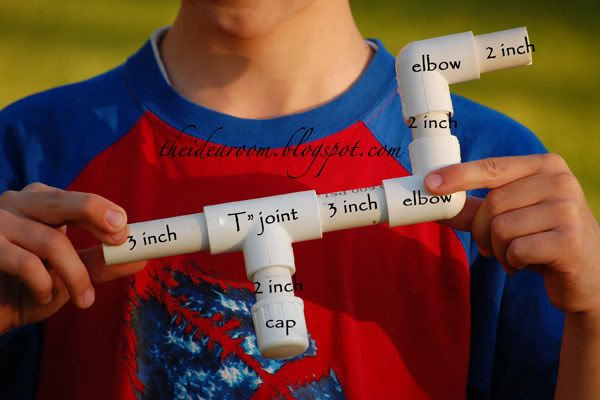 Take your parts and use the above picture to put them together to make your gun. This is a very simple gun style. If you want a different style, all you would need to do is buy a longer length of PVC pipe and some more joints depending on what shape you are trying to achieve.
I ended up making a gun for my other boy and they spend a lot of time in the backyard having marshmallow wars. They played with them so often that I never had any marshmallows left when I needed them. They buy their own marshmallows now!
So if you have a birthday party coming up, these might be something you would like to make as a party favor, or as a gift for the birthday boy. I was also thinking how much fun these would be at your next family party with Grandma and Grandpa and that pesky brother-in-law!
JOIN OUR NEWSLETTER
Would you like more Recipes, DIY, Printables and Organization Ideas?
---
Subscribing to the newsletter will enable us to periodically send you creative content exclusively for Idea Room subscribers.
*View our Privacy Policy here.