**Don't forget to enter the glass tile pendant giveaway…it ends tonight!!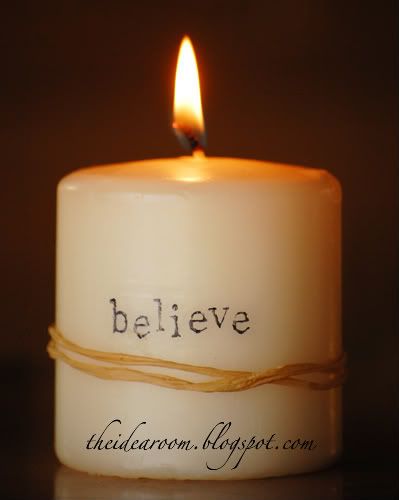 Make some super easy personalized embossed candles. These are perfect for a personalized gift for Christmas (which is what I made them for a few months ago), or a wedding/anniversary gift or for your girl friend who loves taking a bath by candle light.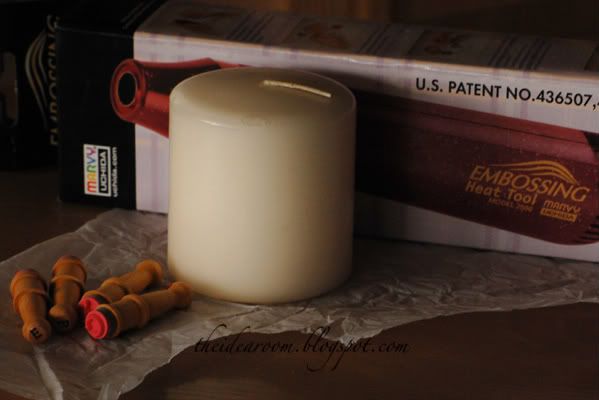 All you need is a fresh, new candle (older ones do not melt as smoothly), a stamp, stamp pad (in your color choice), vinyl letters or scrapbook letters, tissue paper the same color as your candle and an embossing tool. I borrowed my friends embossing tool, but they can be found at any major craft supply store.
I tried embossing colored candles and found that they were much more difficult to get a clean professional look because the dye tended to bleed and discolor the candle. So I prefer to use white or cream colored candles.
**I have wondered if a really hot hair dryer will work instead of an embossing tool, but I have not tried it. You could always experiment on a candle you don't care about ruining and see if it works well enough to give a nice smooth finished look so that you don't have to get an embossing tool.
Then take your letters or picture stamp design and stamp them onto your tissue paper.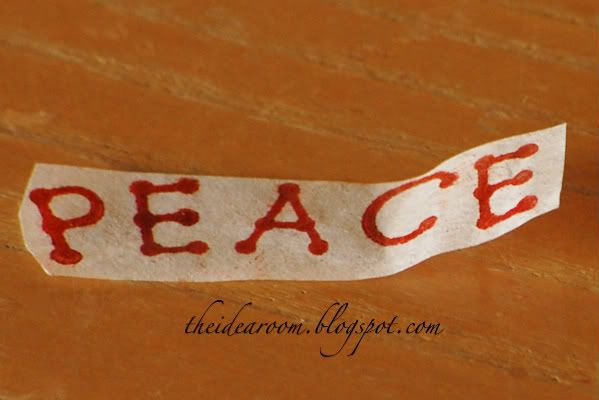 After the ink has completely dried (to prevent smearing), cut around as close as possible to the edges of your lettering or picture.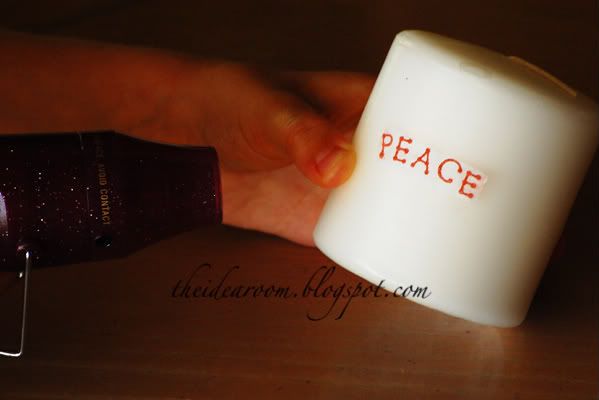 Place your tissue paper on the candle exactly where you want it to be. I wet my finger and touched it to the tissue paper in a couple of spots and stuck it onto the candle. Then carefully and evenly move embossing tool over the tissue paper. This will melt the candle wax which will then cause the tissue paper to stick to the candle. If you are careful enough this will create a seamless seal and the tissue paper will melt into the candle and appear as if the lettering is directly on the candle.
**I would practice on a practice candle several times before doing the final run on your gift candle. This takes a bit of practice so as not to melt your candle too much in different areas.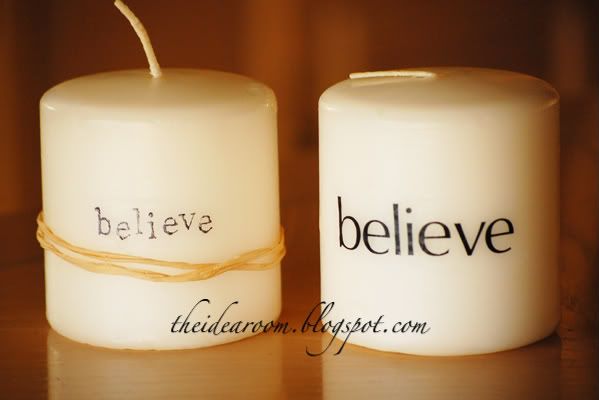 As soon as you get a hang of it, it is really simple. I made some also with scrapbook letters which can be seen on the left candle in the picture above.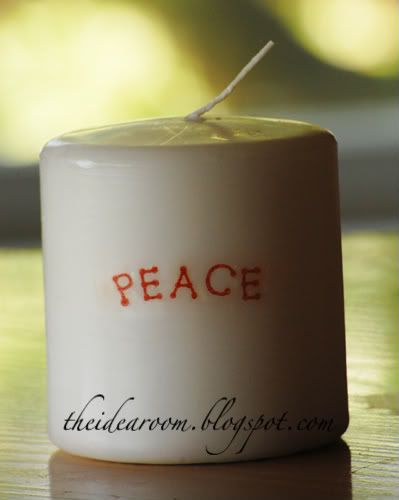 If you don't have any one who needs a candle for a gift, make one to enhance your own holiday decorations.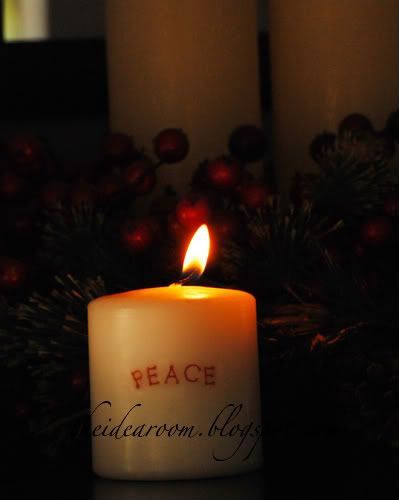 Go on and give it a try! And remember, I love seeing pictures of any and all of your finished projects.
JOIN OUR NEWSLETTER
Would you like more Recipes, DIY, Printables and Organization Ideas?
---
Subscribing to the newsletter will enable us to periodically send you creative content exclusively for Idea Room subscribers.
*View our Privacy Policy here.