Have you guys heard of Project Life?  I am a huge fan of it.  I have shared with you in the past how I LOVE all things creative but struggle with Scrapbooking.  Not that I don't love scrapbooking…cause I do.  I envy those who have all their family photos and memories carefully and beautifully documented.
My main problem with Scrapbooking is my perfectionism.  What little experience I have with Scrapbooking consisted of spending hours on a couple of pages with expensive paper and embellishments.  And things had to be "just right" and it was super frustrating and time consuming…so I pretty much gave it up.  So…my oldest has a nice thick scrapbook till he was about the age of 5.  Then…pretty much nothing.
After being introduced to Becky Higgins philosophy of simple photo journaling, I knew this was the solution for me.  My life right now is a bit busy with kids, family and work.  But I want to be able to document and record our family's memories.
I love how Becky has made it so simple for us and also stylish, colorful and fun.  Since that seems to be an important aspect.  No need to cut, paste or add embellishments unless you really want to…which you can totally do.  But right now, at this time of my life, I don't have time for that…and that is okay.
So, for my very first Project Life Scrapbook page, I decided to start with a recent Family Reunion my family and I enjoyed in Bear Lake, Utah this past summer.  I wanted to do a small bit of journaling while the trip was still fresh in my mind.
I am really excited about this and feel like it is something that I can actually accomplish and succeed at without feeling to overwhelming.  And it will be something we will be able to pull out and enjoy together as a family.
I am also excited to think that my girls and I can work on it together as a Sunday activity.
Becky Higgins is bringing her Project Life kits to the Home Shopping Network on March 25.  HSN will be selling two full Project Life kits that include an album, page protectors and either a Blush or Jade edition core kit.  Be sure to check it out. It's an amazing deal and it's a great way to get started on Project Life.
And…American Crafts want to give one Idea Room Reader their very own Project Life Kit.  The winner will be able to choose the Jade or the Blush Edition.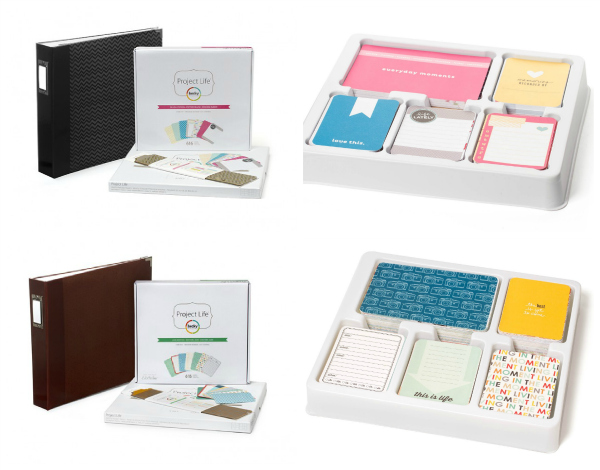 To enter, follow the directions in the Rafflecopter Box below.
*This is a sponsored post for American Crafts and Becky Higgins.  However, all opinions and statements are mine.  Giveaway open to U.S. Residents age 18 and older.  Giveaway will end Thursday, March 28th at 12:00 MST.  Giveaway winners will be chosen at random and will have 48 hours to claim their prize or a new winner will be selected.
JOIN OUR NEWSLETTER
Would you like more Recipes, DIY, Printables and Organization Ideas?
---
Subscribing to the newsletter will enable us to periodically send you creative content exclusively for Idea Room subscribers.
*View our Privacy Policy here.