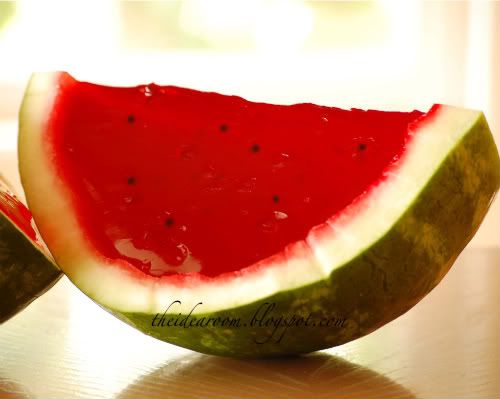 Oh my goodness! Can you believe how fun this Jell-O is? I saw this creative idea on a feature done by One Crafty Place here so some of you may have already seen this. The original recipe can be found at Gourmet Mom on the Go here. Both of those blogs have some great ideas if you don't already know about them.
Anyways, this would be a hit at an upcoming summer BBQ or party. Just scoop the melon out of the rind of half a watermelon and serve it out of a separate dish. Then whip up some of Gourmet Mom's Watermelon Jello-O in the empty rind and you will have two yummy treats to serve. We happened to have a BBQ this past weekend and a watermelon. It was a hit with the kids AND the adults!
**By the way…I want to thank all of my followers! Less than one month ago I had 2 followers and now…well I'm speechless. I don't know where you all came from, but I hope you are enjoying my blog and that I can keep the ideas coming! I want to do something to reward your loyalty, so expect a giveaway soon after this crazy end of the school year settles down a bit.

JOIN OUR NEWSLETTER
Would you like more Recipes, DIY, Printables and Organization Ideas?
---
Subscribing to the newsletter will enable us to periodically send you creative content exclusively for Idea Room subscribers.
*View our Privacy Policy here.