So excited to welcome Kristyn today as part of our Fall Festival!  Kristyn is sharing an awesome tutorial for these DIY Halloween Candy Bottles and gift box.

Hi there Idea Room readers!! It's Kristyn from Lil' Luna! I'm so thrilled to be here today. I admire Amy so much, and look up to her not only as a blogger, but also as a friend and mother. The girl is amazing and so talented, so was I ecstatic when she asked for me to guest post today.
As I think about cooler weather and Fall, I can't help but think of Halloween. It's one of my favorite holidays, and our family has made some super fun traditions for that holiday. Although gift giving is associated more with Christmas, our family has actually tried serving and doing nice things for others all year round, and even around Halloween. People can always use a pick me up, right? So, this year I decided to come up with a super cute Halloween Pop Box Gift. I've made them in the past for Valentines, Christmas and Birthday, and they've alwas been a hit. Why not a Halloween version?! It can be given to your child's teacher or just to a family who needs some extra cheer. It's even great for the hubby!! This gift is easy and perfect for anyone.
Here is what you'll need to make one too:
Materials:
IBC Cream Soda or Crush Pop Bottles Set
Candies to fill your bottles
Scrapbook Paper Ribbon/Ric Rac/Twine
Tape or Glue Spray Paint or Craft Paint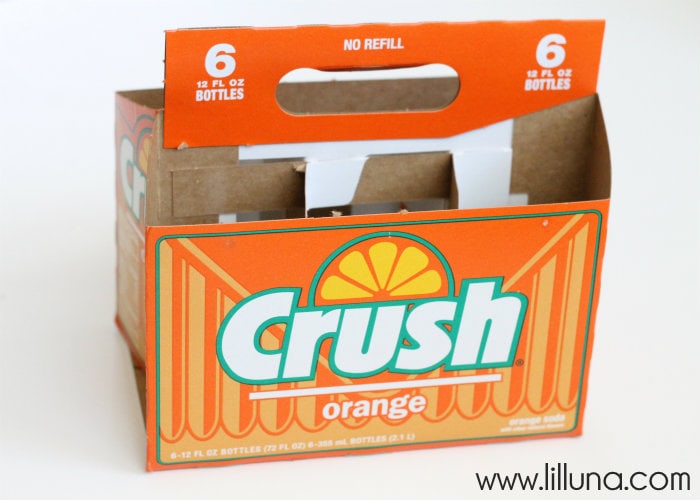 Directions:
1. Begin by emptying your pop bottles and washing them out and letting them dry completely. From there you will paint your Pop Box. I spray painted mine black. Let dry.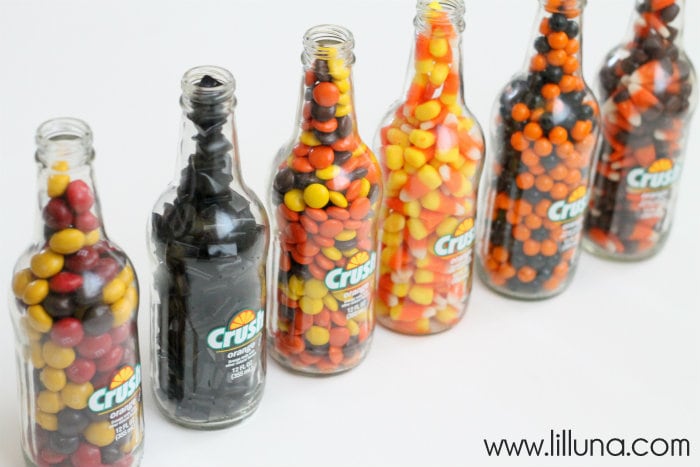 2. From there you will fill your pop bottles with candy. I did Candy Corn, Indian Corn, Black & Orange Sixlets, Fall M&Ms, Black Licorice and Reeses Pieces.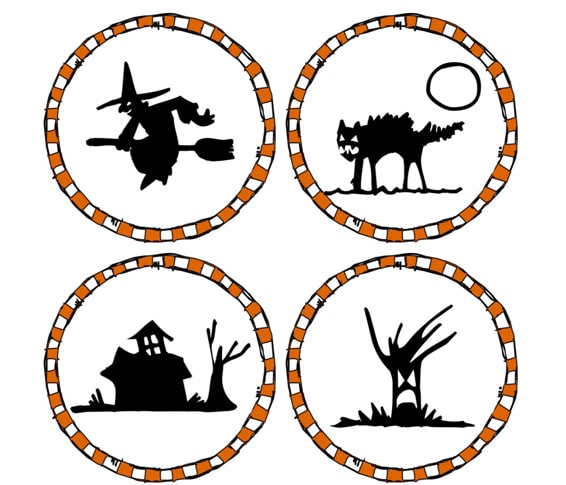 3. From there you will print out your Halloween Pop Box Printables. To get the PDF click on the image above or go HERE.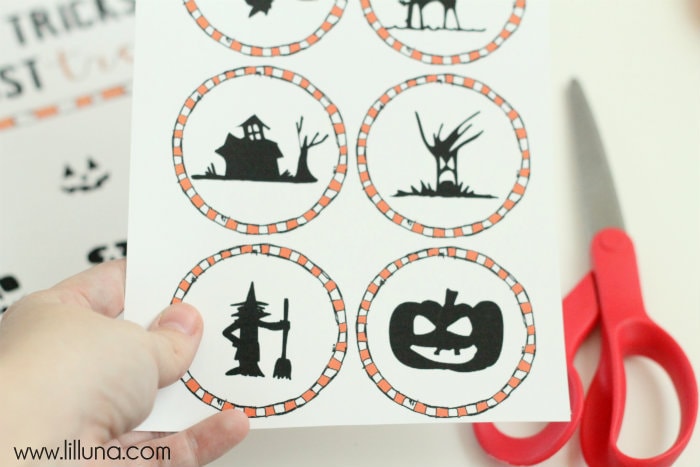 4. Cut out all your printables.
5. From there you will cut out 6 pieces of scrapbook paper. I made mine about 3 inches by 9 inches. Wrap and tape around pop bottles. Add your pop bottles circles to the front of your bottles with tape or glue.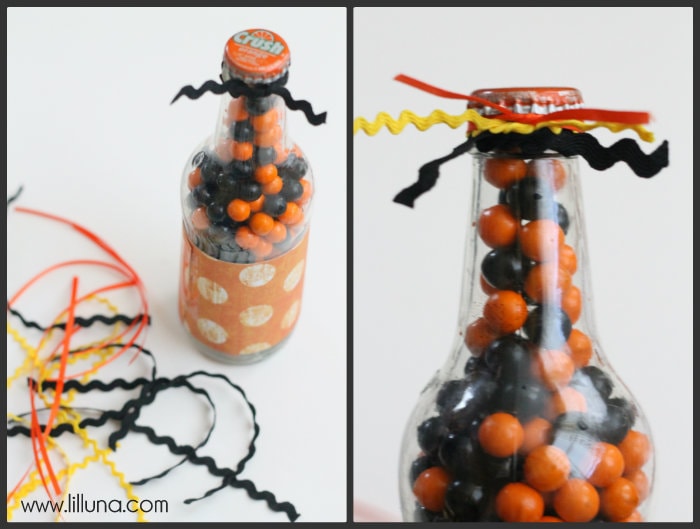 6. From there I added some ric rac and ribbon around the tops of the bottles. I also added the pumpkin heads to the tops of the bottles. Add your bottles back to the box and be sure to add your front printable to the box that says "No Tricks, Just Treats". Now you have super cute and easy Halloween Gift to give to anyone.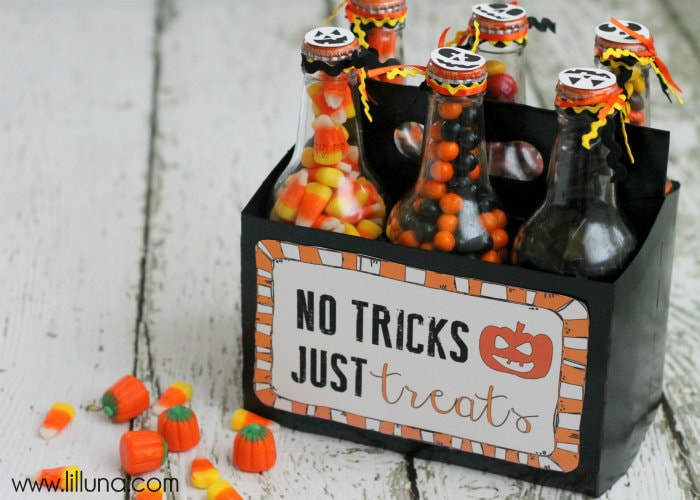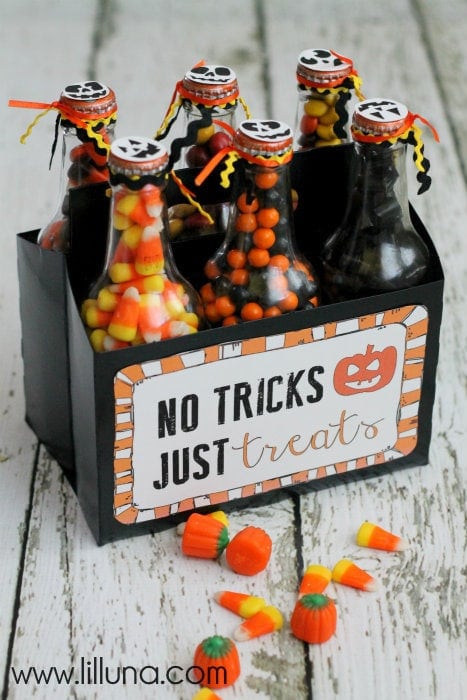 Super cute and super easy – which is how I like things!! ;D
Be sure to come on over to Lil' Luna for more fun and cute tutorials on crafts, DIY projects, recipes and more. I'd love to have you!!
ENJOY!
Thank you so much Kristyn! Isn't she the cutest?  I just instantly knew I liked Kristyn when I met her.  She is so nice and sweet and FUN!  I feel so grateful for all the amazing people I have been able to meet through this blog and Kristyn is definitely one of those people.  Be sure to head on over to Lil' Luna and see all the great things she shares!  –Amy
JOIN OUR NEWSLETTER
Would you like more Recipes, DIY, Printables and Organization Ideas?
---
Subscribing to the newsletter will enable us to periodically send you creative content exclusively for Idea Room subscribers.
*View our Privacy Policy here.