Learn how to create these DIY Halloween Candy Bottles and gift box. They are so much fun to make and are perfect for simple halloween gift ideas that make a great gift for lots of different halloween occasions.
DO PEOPLE GIFT EACH OTHER ON HALLOWEEN?
October is one of my favorite months because of the fall leaves and Halloween! Our family has made some super fun traditions that my kids love to participate in. Although gift giving is associated more with Christmas, our family has actually tried serving and doing nice things for others all year round, and even around Halloween. People can always use a pick me up, right?
So, this year I decided to come up with a super cute Halloween Pop Box Gift. I've made them in the past for Valentines, Christmas and Birthdays, and they've alwas been a hit. Why not a Halloween version?! It can be given to your child's teacher or just to a family who needs some extra cheer. It's even great for the hubby!! This gift is easy and perfect for anyone.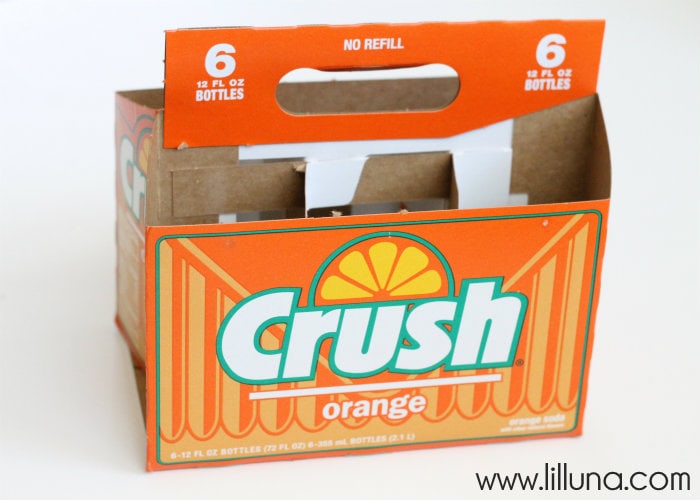 DO YOU GIFT YOUR HALLOWEEN PARTY HOSTESS
It is certainly not expected to bring a cute halloween gift to your Halloween party host or hostess but can be a nice gesture if you have been invited over to a Halloween party! Especially if the host has spent a lot of time and effort to create a fun night of halloween activities and games. This is a simple and small gesture that can be a nice little Halloween gift ideas that anyone would love to receive.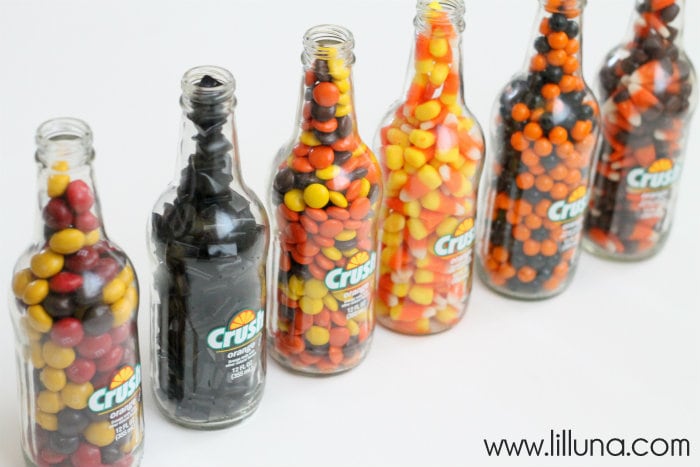 WHAT CAN I FILL THE BOTTLES WITH?
Lots of fun options see for filling the bottle with something your hostess  will love. Here are some of my favorite halloween gift ideas for these bottles.
nuts, peanuts, etc.
bath salts
small toys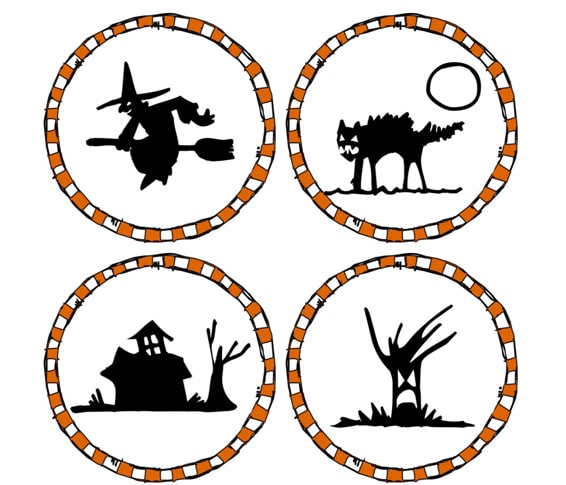 MATERIALS NEEDED FOR THESE HALLOWEEN GIFT IDEAS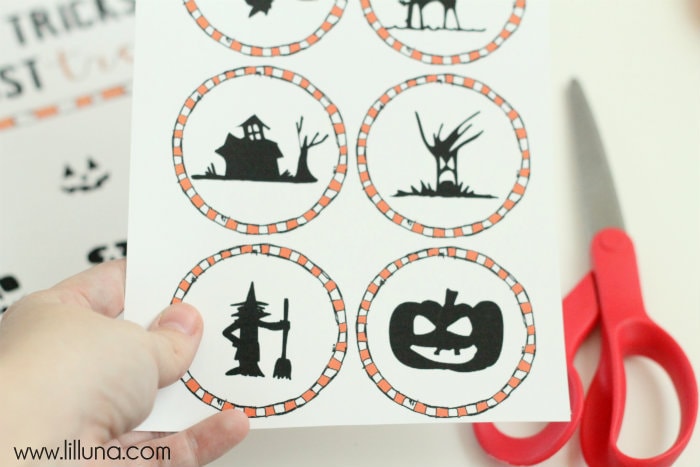 HALLOWEEN GIFT IDEAS POP BOX INSTRUCTIONS
1. Begin by emptying your pop bottles and washing them out and letting them dry completelyFrom there you will paint your Pop Box. I spray painted mine black. Let dry.
2. From there you will fill your pop bottles with candy. I did Candy Corn, Indian Corn, Black & Orange Sixlets, Fall M&Ms, Black Licorice and Reeses Pieces.
3. From there you will print out your Halloween Pop Box Printables. To get the PDF click on the image above or go HERE.
4. Cut out all your printables.
5. From there you will cut out 6 pieces of scrapbook paper. I made mine about 3 inches by 9 inches. Wrap and tape around pop bottles. Add your pop bottles circles to the front of your bottles with tape or glue.
6. From there I added some ric rac and ribbon around the tops of the bottles. I also added the pumpkin heads to the tops of the bottles. Add your bottles back to the box and be sure to add your front printable to the box that says "No Tricks, Just Treats".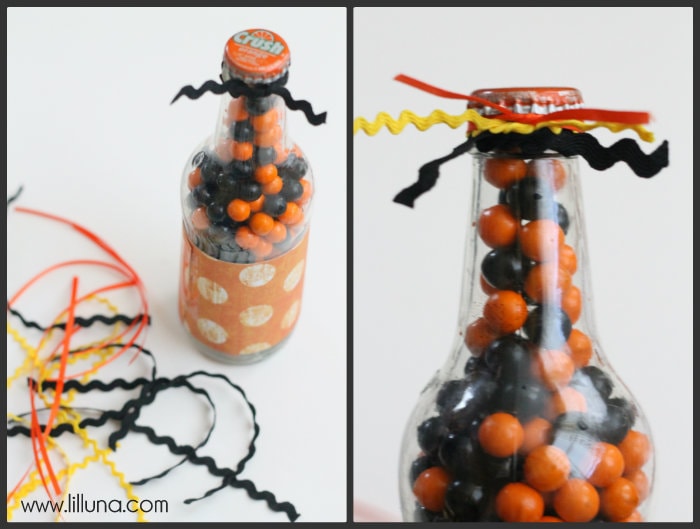 Now you have super cute and easy Halloween Gift to give to anyone. I love to have my kids help me cut out the labels and glue them on to the bottles. Or if your kids are old enough this is a project they can do mostly on their own expect for the spray painting.
These make a super cute, easy and unique gift idea! A fun way to gift halloween treats to a party host, teacher, neighbor and more! They also make great halloween gifts to hand out as a halloween party favor too.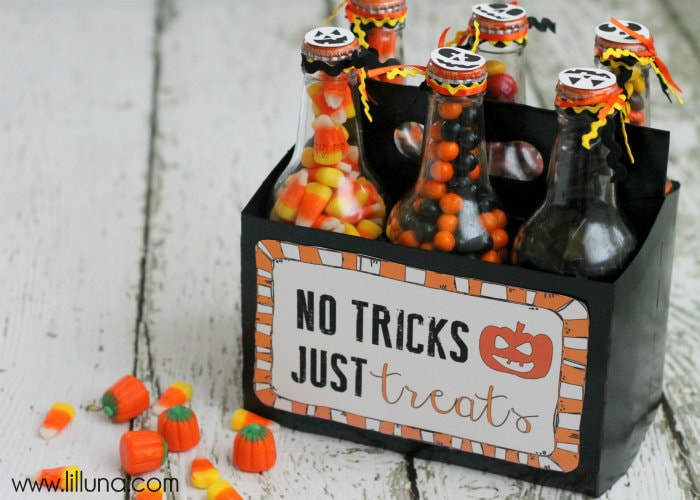 These halloween candy bottles would be fun to add to some larger halloween gift baskets if you want to give a halloween gift that is a little more involved for extra special occasions. You could add a fun Halloween t-shirt or hoodies, gift cards, some halloween decor, a clay ghost, some fun plastic spiders or a treat bag to go along with your halloween themed gift.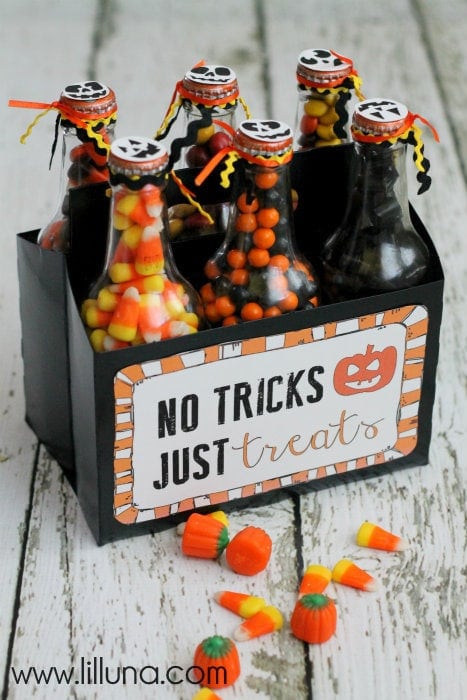 OTHER HALLOWEEN GIFT IDEAS
If you prefer to do something that isn't candy or sugar related, you could always fill the bottle with other ideas that can be just as fun and festive to gift for this spooky season. Here are some other halloween gift ideas.
Special thanks to Kristyn from Lil Luna for sharing this fun halloween gift idea with us today! Be sure to check out her site for other amazing halloween ideas!
JOIN OUR NEWSLETTER
Would you like more Recipes, DIY, Printables and Organization Ideas?
---
Subscribing to the newsletter will enable us to periodically send you creative content exclusively for Idea Room subscribers.
*View our Privacy Policy here.