I had so much fun at the Recessionista Party last night. So much so, that I was too tired to get a great post together. I will post some pics of the party later. But I didn't want to leave you empty handed today so I posted my favorite Oreo Cupcake recipe! De.Li.Ci.OUS!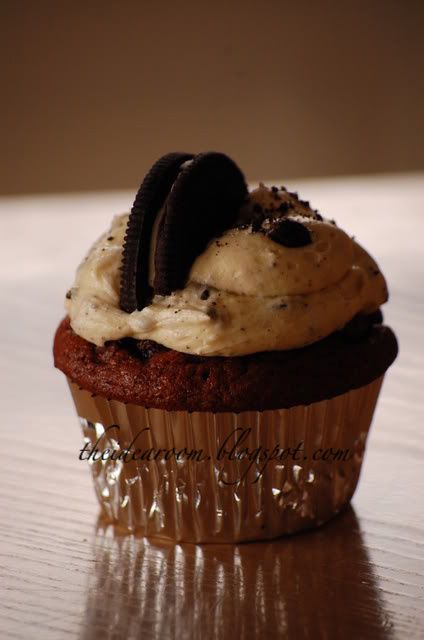 Too Much Chocolate Cake from allrecipes
Ingredients:
1 (18.25 ounce) package devil's food cake mix
1 (5.9 ounce) package instant chocolate pudding mix
1 cup sour cream
1 cup vegetable oil
4 eggs
1/2 cup warm water
2 cups semisweet chocolate chips (I used miniature)
Directions:
Preheat oven to 350 degrees F (175 degrees C).
In a large bowl, mix together the cake and pudding mixes, sour cream, oil, beaten eggs and water. Stir in the chocolate chips and pour batter into a well greased 12 cup bundt pan.
Bake for 50 to 55 minutes, or until top is springy to the touch and a wooden toothpick inserted comes out clean. Cool cake thoroughly in pan at least an hour and a half before inverting onto a plate If desired, dust the cake with powdered sugar.
*Note: I made cupcakes with this recipe. I ended up with 28 cupcakes that were baked at 350 degrees F for about 21 minutes.
Buttercream Dream Frosting
Ingredients:
1 stick salted butter – room temperature
1 stick unsalted butter – room temperature
1 cup shortening
1 tablespoon Clear Vanilla extract
2 pounds confectioner's sugar (powdered sugar, 10x)
4-6 tablespoons very cold milk (I used 5 TBS)
8 crushed Oreo cookies with the cream removed before crushing
Directions:
Cream the butter and shortening in the bowl of an electric or stand mixer. Add the clear vanilla extract and combine well. Begin adding in the sugar and mixing thoroughly after each addition. After all of the sugar has been added and mixed thoroughly, begin adding the very cold milk… one tablespoon at a time, combining very well after each addition (mixer on medium-high to high speed) until you reach the desired consistency. Fold in the Oreo cookie crumbs. Top cooled cupcakes with the buttercream frosting and garnish with 1/2 an Oreo.
JOIN OUR NEWSLETTER
Would you like more Recipes, DIY, Printables and Organization Ideas?
---
Subscribing to the newsletter will enable us to periodically send you creative content exclusively for Idea Room subscribers.
*View our Privacy Policy here.