I saw this wreath over at Design Sponge and loved everything about it. But I took the idea and decided to make this felt heart wreath for my self.  It is the perfect Valentine's Day Craft and although a bit time consuming…it really easy to make.
Stressed About Thanksgiving?
Stressed About Thanksgiving?
Check Out Our Helpful Products Below
This wreath is so easy to make but can be a bit time consuming. My hubby was recently out-of-town on business. So, over a couple of evenings I was able to watch some chick flicks and put together this wreath.
Materials needed:
1 yard Felt (off the bolt)
Scissors or a Rotary Cutter
3 inch circle pattern
I bought my heart shaped foam wreath at JoAnn's (Michaels might have them too). It was $4 and I used my 40% off coupon. I also purchased 1 yard (off the bolt) of a nice "velvety" colored red felt. I also picked up a package of straight pins.
I used a cup from my cupboard to make a 3 inch circle template. Then I cut SEVERAL 3 inch circles out of the felt. No I did not count them. Then I took a circle and folded it in half to make a half circle and folded it in half again.
Then take a straight pin and pin it through the bottom of the point. Then stick the pin with the felt into the styrofoam. Continue doing this placing each folded circle close together filling in the spaces. Continue the process for the whole wreath.
You will not need to do this on the back of the wreath. You can attach a ribbon or small circle of yarn to the back of the wreath to hang it. I absolutely LOVE how it turned out!!
Watch the DIY Heart Wreath Tutorial Video here:
This is such a fun and Valentine Heart that will made a great addition to your Valentine Decor.
In fact, I liked it so much I came up with some other projects like it.
To see them you can go here:
For other Idea Room Valentine's Day Projects you might want to check out these!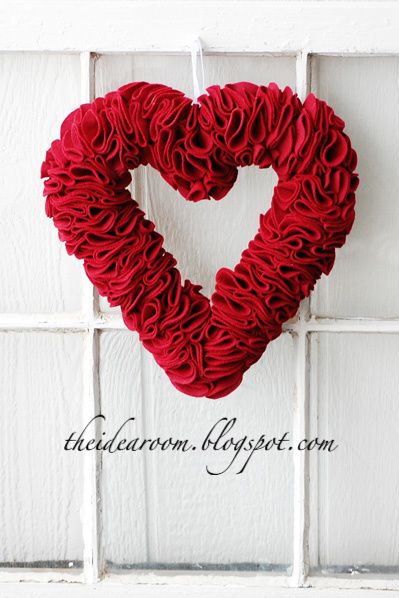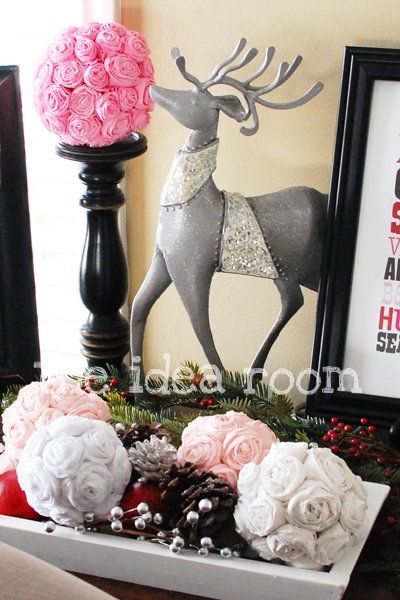 Felt Heart Wreath | Kissing Ball Wire Crate | TIssue Paper Kissing Balls
Sealed with a Kiss | Candy Cane Heart Suckers | Love Potion no. 9
Just a Little Crush | Heart Bottles and Cookies | Tic Tac Valentines
I Chews You Valentine | Three Valentine Printables | Chalk Board Mug
Framed Heart Decor | Valentine's Be Mine Décor | Valentine's Day Game
Valentine's Day Card Ideas | Valentine's Candy Rings | Valentine's Day Bingo
Sugar Cookie Recipe | Handprint Valentine's | Homemade Sucker Recipe
Valentine's Day Cookie Pops | Valentine's Candy Bark | Heart Shape Pancakes
JOIN OUR NEWSLETTER
Would you like more Recipes, DIY, Printables and Organization Ideas?
---
Subscribing to the newsletter will enable us to periodically send you creative content exclusively for Idea Room subscribers.
*View our Privacy Policy here.