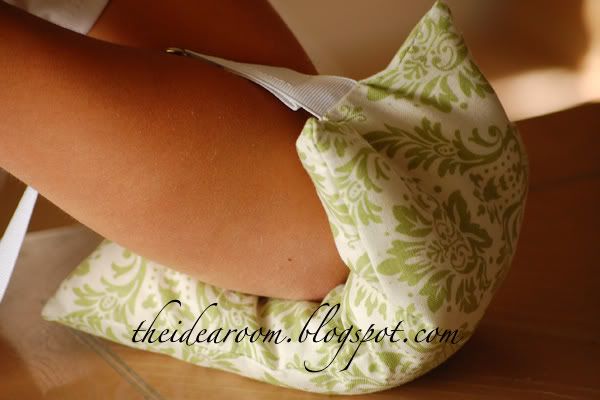 When I was pregnant with my 5th child, I started getting "tennis elbow". It just got worse after she was born with all the nursing and carrying those darn car seats. It flares up every once in a while and if I cycle a series of hot and cold treatments, then the pain and tenderness really ease up.  You can make your own by following this easy rice bag tutorial.
I have a hard time sitting still sometimes and so I needed something that would allow me to be fairly mobile while heating or icing my elbow. So I decided to make a rice bag with a removeable cover. This allows me to change out the rice bag for a fresh cold rice bag straight out of the freezer. Or to put it a nice hot rice bag straight from the microwave.
I added a tie that is attached to a couple of "D" rings that can be adjusted to fit snuggly where needed. Now I can move around, type on the computer, put the kids in bed, do the dishes, etc., all while getting a treatment. How cool is that? I am a multitasker at heart.
Here is what I did: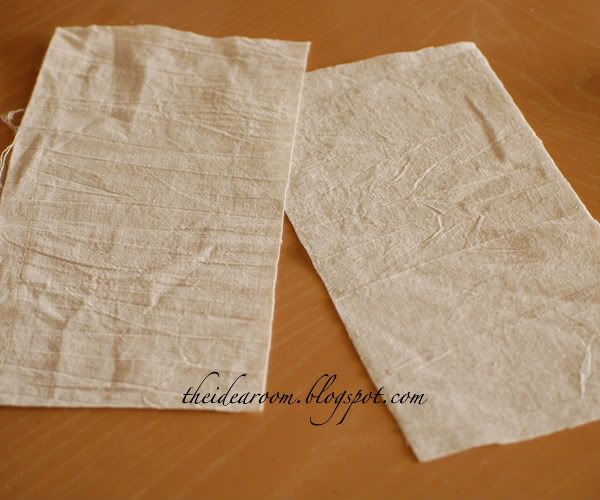 Cut out 2 peices of muslin (or other 100% cotton) material that measure 10×5 inches. Pin the right sides together and sew a 1/4 inch seam around three edges leaving one of the 5 inch sides open. Turn right sides out and fill with rice. I filled the bag only 3/4 full so that it will fold easily around a knee or elbow.
**I made 2 rice bags so that one would always be ready to go. I keep it in the freezer. If you want two rice bags, you will need to cut 4 peices of material.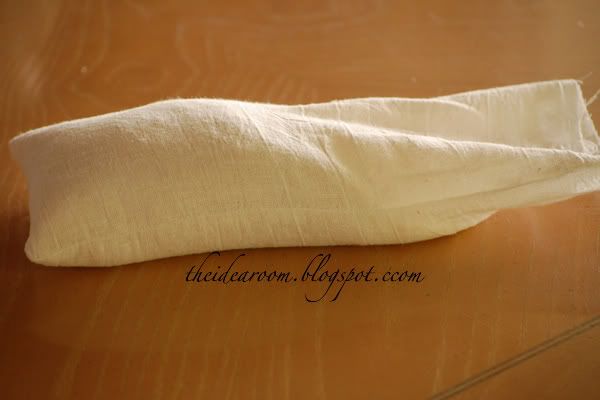 Then fold in 1/4 inch seam and sew the top of the rice bag closed. You are now finished with the rice bag insert.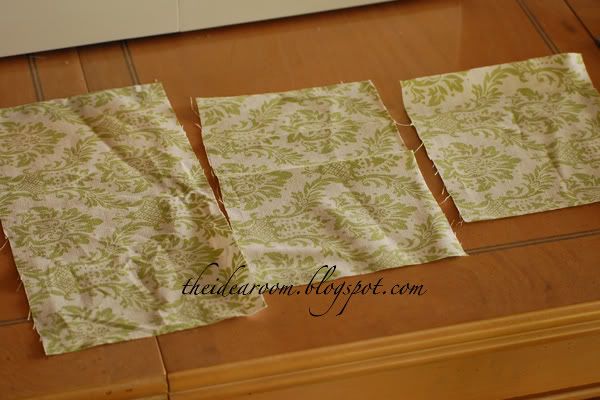 For the outside cover of the bag, you will need to cut out three pieces of material. You will need a piece that measures 10×5, 6×5 and one that measures 8×5. Take the two smaller pieces of material and on each one, of the 5 inch sides, sew down the side with a 1/4 inch seam.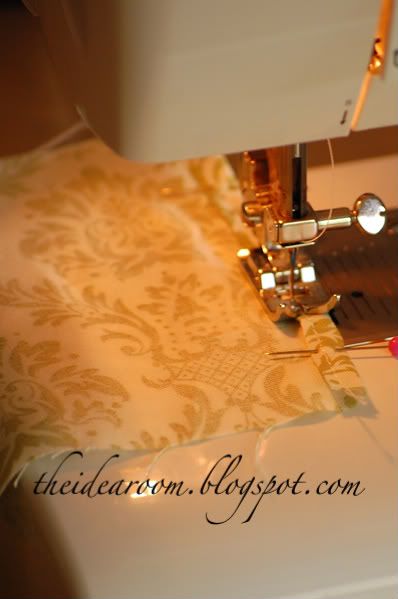 Pin the material with the right sides facing so that the 10×5 peice in on the bottom and the 6×5 and 8×5 match up with the ends and overlap in the middle.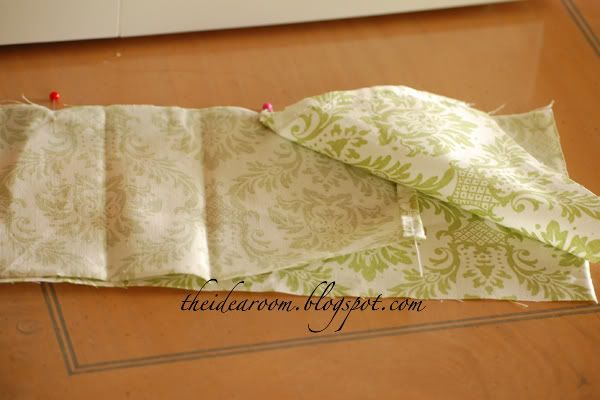 Take two peices of ribbon. One should be about 13 inches long and the other 5 inches. Place the ribbon between the top and bottom layers of material, one on each end. Make sure they are centered in the middle with about a 1/2 inch of ribbon hanging out from the ends of the seams. Pin in place.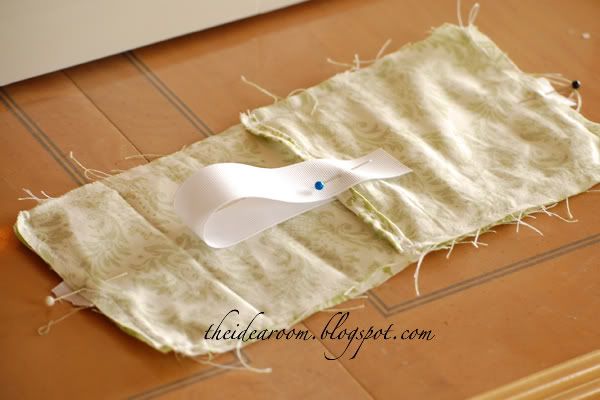 Sew 1/4 inch seam around the entire bag. Turn right side out. You are now finished with your bag. All you need to do is sew on your velcro for your "D" rings.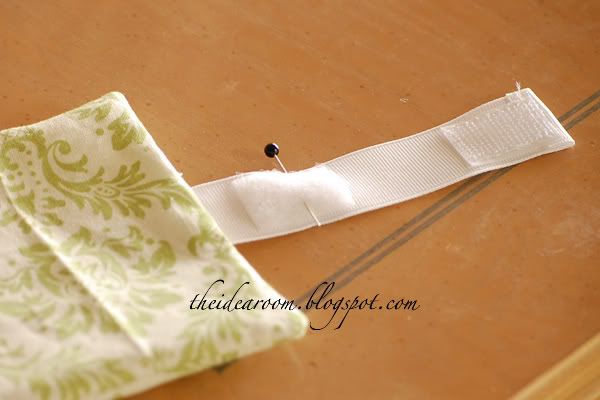 Cut a piece of velcro that measures about 1-1/4 inch. Take the shorter length of ribbon and fold down the top edge. Separate the velcro and place one side at the top of this ribbon. Place the other piece of velcro 1-1/2 inches away from your first peice. Pin in place and secure to the ribbon by sewing a square around each piece.
Take your two "D" rings and slide the ribbon through them. Fasten velcro so that the "D" rings are between the two peices. I burned the ends of the ribbons to prevent them from fraying (do this with caution and very slowly). Now you are all finished!
Now, before heating your bag in the microwave (about 1 minute), REMEMBER TO REMOVE THE "D" RINGS!! You do not want to put metal in your microwave or your rice bag might get too hot…Flaming Hot! When heated remove from microwave and replace the "D" rings. Thread ribbon through rings and adjust till it's a perfect fit.
One night I had a really bad headache. I pulled a rice bag out of the freezer and placed it into the covering and placed the bag on my forehead. It actually worked really well at relieving my headache. Now I need to make another one for my husband who has a bit of carpal tunnel. We are falling apart over here!
JOIN OUR NEWSLETTER
Would you like more Recipes, DIY, Printables and Organization Ideas?
---
Subscribing to the newsletter will enable us to periodically send you creative content exclusively for Idea Room subscribers.
*View our Privacy Policy here.